AMSOIL

2 cycle for snowmobiles
These are the Amsoil products used by Scheuring in their Snowcross snowmobiles, as well as Judnick and PJ Wanderscheid. For information on the race teams; Amsoil snowmobile race teams
INTERCEPTOR™ High Performance Synthetic 2-Cycle Oil (AIT)
A high-performance two-cycle oil with a performance emphasis on exhaust power valves. Excellent for all types of snowmobiles, motorcycles, personal watercraft, ATVs and jet boats. Injector use or 50:1 premix. For product details, visit the "products" link on the left.
Request a FREE Amsoil catalog mailed to your house. Amsoil ships to Canada no problem!
To order now, call the number on the left, or use the links below.
Article regarding 2 cycle engine applications; Amsoil 2 cycle
Amsoil "Fabulous Four" article, excerpts below; Amsoil 2 cycle Fabulous Four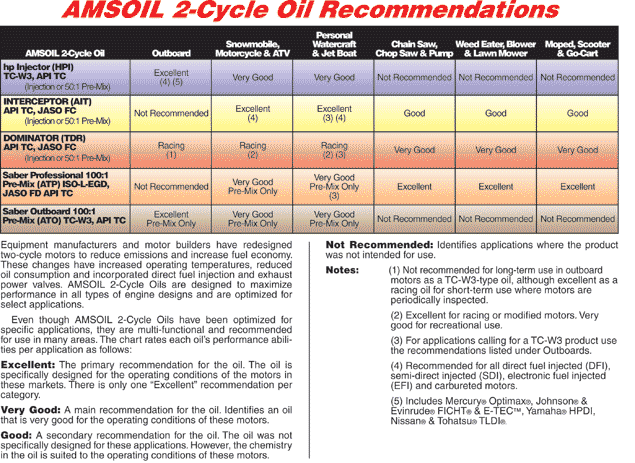 INTERCEPTOR™ High Performance Synthetic 2-Cycle Oil (AIT)


hp Injector Synthetic 2-Cycle Oil (HPI)

Formula 4-Stroke® PowerSports 0W-40 Synthetic Motor Oil (AFF)


Series 2000 Synthetic Chaincase Lubricant (TCC)


Shock Therapy Light Suspension Fluid (STL)


Shock Therapy Medium Suspension Fluid (STM)

Gasoline Stabilizer (AST)



Synthetic Water Resistant Lithium Complex Grease (GWR)


MP Heavy Duty Metal Protector (AMH)

Engine Fogging Oil (FOG)