AMSOIL My Garage
Amsoil has just added an "Amsoil Garage" feature to the website. After you have an account at amsoil.com (by becoming a Dealer or Preferred Customer), you can log in and save vehicle data for return visits. You can also create a free login without any purchase by using referral code 313120 to create a new, free My Garage account. Amsoil free My Garage account setup.
You can now save vehicles that you have looked up into your virtual garage. This enables you to retrieve them any time that you login to the website, and eliminates having to enter year, make, model and engine code information each time.
Each instance of a vehicle record you save has a detailed summary which includes a space for current mileage, estimated mileage driven per year, details you would like to submit, recommended AMSOIL products and even a space to upload a photo for reference.
The garage is configured to accept a virtually unlimited amount of vehicle records, which enables you to put all of the vehicles you would normally have to look up into a central location.
The garage system also allows you keep a maintenance record for your vehicles. Oil changes can be logged for a vehicle record, and the system can be used to keep track of the next oil change date.
The garage can also be used to send email reminders when oil changes are scheduled in advance. These emails can be sent to your inbox, or the inboxes of customers whose vehicle records you manage in your My Garage account.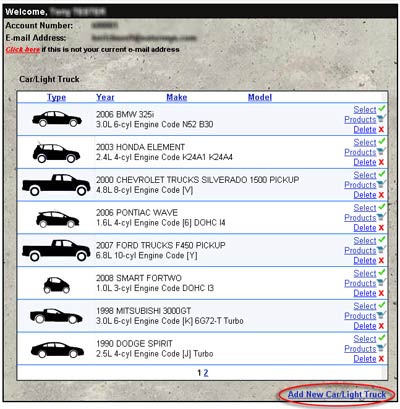 Amsoil